Even the best on-page SEO efforts aren't enough to rank on Google. Today, the search engine accounts for over 200 factors when it determines a SERP's pecking order, so it's nearly impossible to optimize your website and content for each of its ranking factors.
But even though you can't optimize for all of Google's ranking factors, you can still optimize for one of the search engine's most important ranking factors — domain authority.
What is Domain Authority?
Domain authority is a metric that was created by Moz, for the purpose of rating a website on a scale of 1-100, (100 being the best and 1 being the worst). The higher your score, the better your website will rank.
Instead of thinking of domain authority as a measure of your SEO effort, think of it as a competitive metric against other sites.  So if you compare your website's DA score with that of your competitor's site, the site with the higher DA score is likely to rank higher in search engine searches!
After Google deprecated and then stopped publishing PageRank, DA became one of the go-to replacements.
How to check Domain Authority?
There are a few domain authority checkers available online which you can use to check your website's DA. The first is the official Moz Link Explorer where you type in your domain or sub-domain address, and it will show you the latest DA score.
Here's a DA report for Moz' site: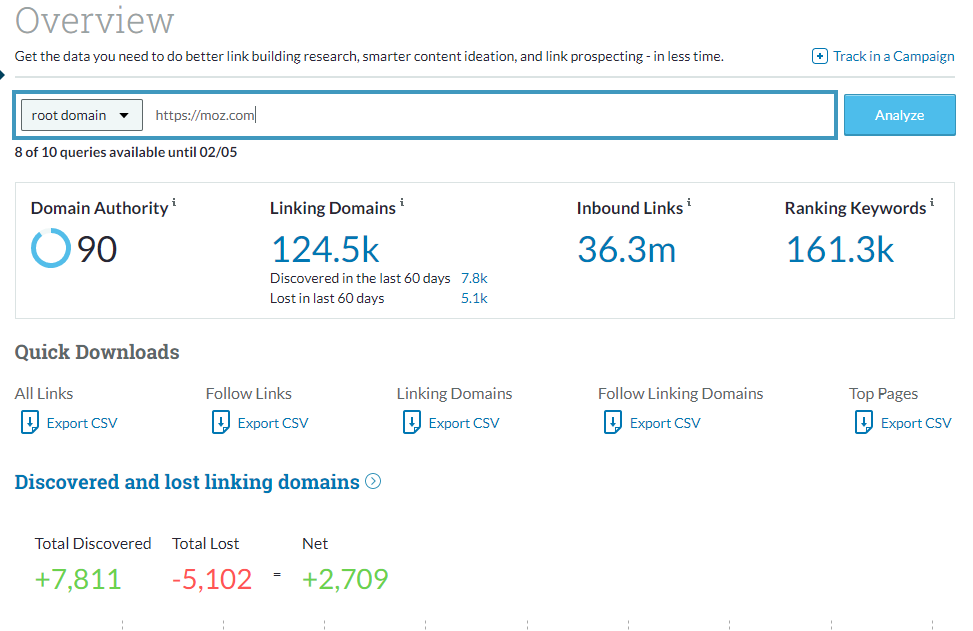 If you're using Chrome or Firefox browser, you can use MozBar Extension to check the domain authority and page authority of any webpage, and I highly recommend that you do so.
What is a good domain authority score?
Sites with a very large number of high-quality external links (such as Wikipedia or Google.com) are at the top end of the Domain Authority scale, whereas small businesses and websites with fewer inbound links may have a much lower DA score. Brand-new websites will always start with a Domain Authority score of one.
Because Domain Authority is meant to be a predictor of a site's ranking ability, having a very high DA score shouldn't be your only goal. Look at the DA scores for the sites you're directly competing with, and aim to have a higher score than your competitors. It's best used as a comparative metric (rather than an absolute, concrete score) when doing research in the search results and determining which sites may have more powerful/important link profiles than others. Because it's a comparative tool, there isn't necessarily a "good" or "bad" Domain Authority score.
How to improve your domain authority?
By improving your domain authority, you are also increasing your chances of improving your search engine ranking.
Diversify your Link Profile
Google prefers link profiles to consist of links from a high variety of sites and high-authority sites. The search engine considers this a marker of an authoritative and trustworthy site.
Instead of getting tons of links from a few sites, focus on getting quality links from diverse sources. This would include links from various geo-locations, various domain extensions, and sources that are not interconnected.
Remove bad links
Along with creating new links, you should also keep an eye out for bad links pointing to your site. Whenever a bad link is pointing to your site, ensure that you get it removed, or use the Google Disavow Tool to ignore those links.
Become an authoritative source in your niche
The quality of your articles is more important than the number of articles. Publishing only 2-3 high-quality posts in a week is far better than publishing 7 posts of mediocre or low-quality content.
Along with publishing high-quality content, work to become an authoritative site in your niche. Become the news breaker or make sure your reader trusts every page on your website.  This will have a great impact on overall user-experience and on your search engine ranking.
Why do DAs Sometimes Rise and Fall?
If you didn't lose any backlinks, but your DA fell, the reason might be that other sites got more backlinks. Moz can't assign a DA of 105 to highly successful sites like Google or Wikipedia, so as the web grows, they leave 100 as the ceiling and ratchet everyone else down.
DAs can also rise without you knowing why, at least until you look under the hood. Domain Authority changes when the general landscape of your industry and the wider web changes, but also when other sites' direct relationships with your site change. So if a high-authority site is sending you referral traffic, for instance, that can increase your Domain Authority.
CONCLUSION
Back in the day, Google page rank was a factor for any webpage on the internet, but it was a flawed system. On the other hand, a domain authority score is well-maintained and is now the most trusted way to measure the rank and authority of a webpage on the internet.
If you have never focused on your site's domain authority score, it's time for you to use some of the above-mentioned domain authority checkers, and check your DA score. If your DA score is low, you should start working on the above tips to get a higher DA score.