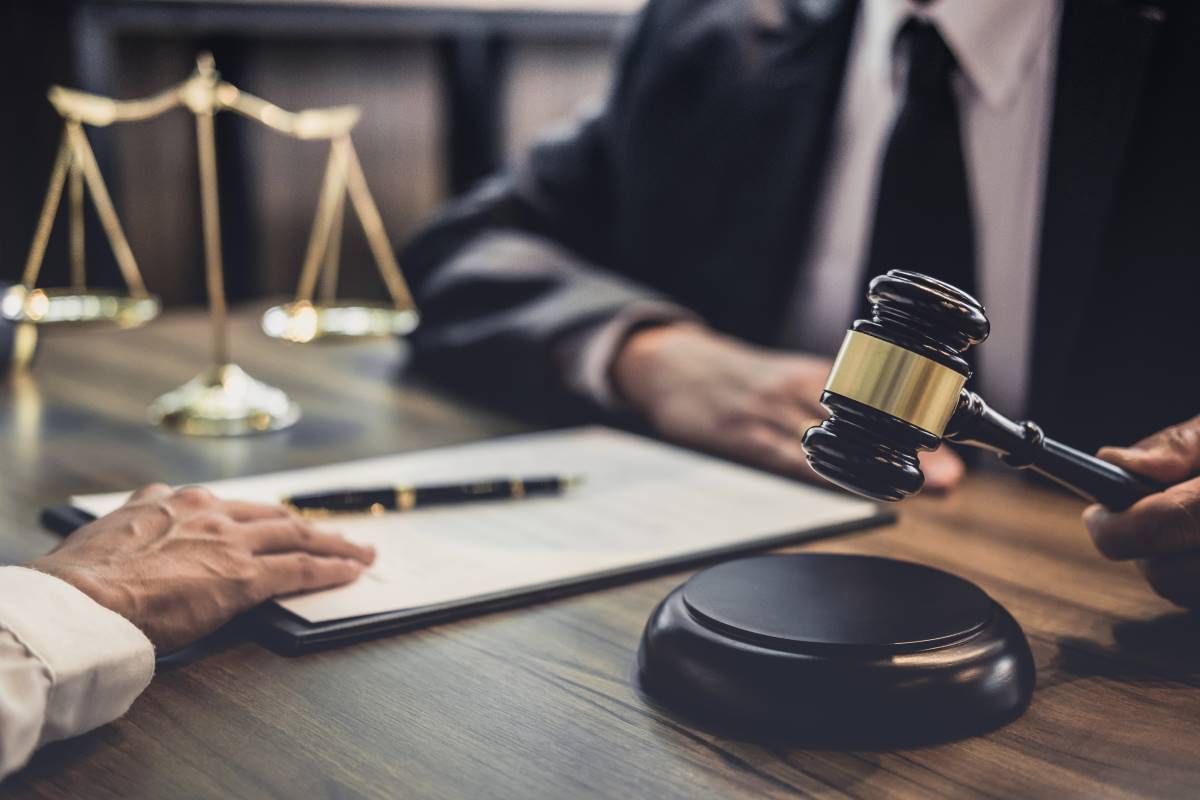 SEO for law firms is so valuable because it puts your practice in front of someone at the exact moment they're searching for your services.
The legal industry has traditionally been slow to adapt to new technology, but you can't afford to fall behind the times. That's why we created the guide below to help you generate more phone calls from clients.
2 things you need to know about Legal SEO
If you want more clients and cases, and you're wondering if having the top lawyer SEO expert manage your campaign would be a profitable investment, there are really only 2 things you need to know.
First, most of the legal-related searches are non-branded. That means most of your potential clients are conducting 'generic' searches when they're looking for an attorney. A search query like 'Texas car accident attorney' is an example of a 'generic' search.
Second, most people searching for advice from an attorney only contact one law firm.
This means that you can compete for clients with even the biggest law firms in your market, and you don't need a million $$ a month budget for TV and billboard ads to build a successful, high-growth law firm.
The majority of people searching online for legal representation do not already have a particular attorney or law firm in mind. That one simple fact is the key to the enormous opportunity available to you online, if you develop a high visibility presence in local and organic search results, you will start generating more phone calls, leads, and new cases for your firm.
SEO goals for Lawyers, Attorneys & Law Firms
Goal #1: Start generating more phone calls from prospective clients.
To achieve this, you need to rank in the top spots of Google Maps 3-Pack. The Google 3-Pack is the method Google uses to display the top three results for local SERP results. It uses the user's location to make the search relevant to the location where the user submitted the query.

Goal #2: Generate more online leads by (significantly) increasing organic search traffic to your website.
To achieve this, you need to get to page 1 of the organic search results, then become the #1 ranking local attorney in Google Search Results Page.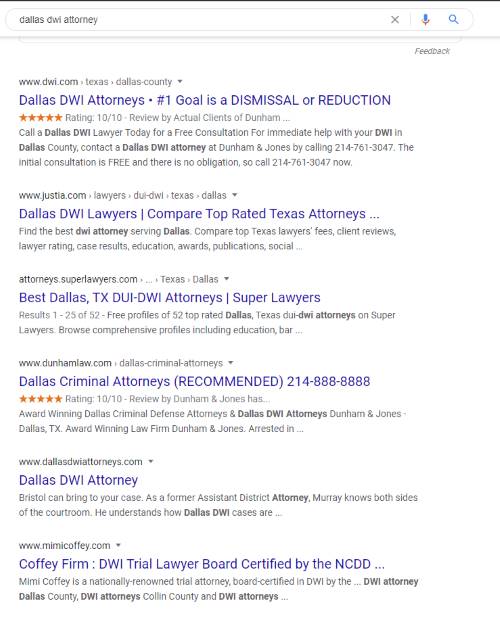 Goal #3: Achieve at least a 5:1 ROI – with the ultimate goal being 10:1.
To achieve this, you need to reach Goal #1 and Goal #2!
Anyone responsible for spending money to generate revenue should have a simple way to know if their activity is generating business. This is why return-on-investment (ROI) is such an important metric for any business activity.
A good marketing ROI is 5:1.
A 5:1 ratio is in the middle of the bell curve. A ratio over 5:1 is considered strong for most businesses, and a 10:1 ratio is exceptional. Achieving a ratio higher than a 10:1 ratio is possible, but it shouldn't be the expectation.
SEO steps to more clients!
Step #1: Pick the right law firm SEO keywords
SEO is built on keywords, and picking the right keywords is like picking the right stocks. It's a double-edged sword though, pick the wrong keywords and your SEO strategy will deflate like a jury that missed lunch.
You should pick your keywords based on:
Your target audience – What does your target audience search for? How do they speak?

Search Volume – You can use an SEO tool like Ahrefs, SEMRush or Google Keyword Planner to get their search volume.

Search intent – "Lawyer reviews" implies much more commercial intent than "do I need a lawyer?" For the highest impact, choose commercially-inclined keywords that indicate the consumer is ready to start a conversation.

Competition – The more people that choose to optimize for a keyword, the harder it is to rank for it. That's why you're going to have a LOT more trouble ranking for "divorce lawyer" than "family law attorney near 20886".
Learn the different types of keywords based on your goals through this article.
Step #2: Research how you stack up to your competitors
Once you've got your keywords, you need to find out how you're currently performing in the search engines compared to your competitors.
Here are a few factors you need to compare:
Whether or not your website is secure (HTTPS vs. HTTP)

Whether or not your website is mobile-friendly

How fast web pages load on your site

Whether a web page has the correct schema markup (a type of website code)

The quality of your web pages' content

The length of your web pages' content

Presence of social signals that point back to your website

Presence of quality backlinks that point back to your website

Whether or not you have optimized images on your web pages
List all the above factors in Google Spreadsheet, then make columns for yourself and each of your top competitors. Then, compare yourself. You might find that you're performing much better or much worse in some categories, but that will give you a good overview. You can also contact us if you otherwise think it would be best if we handle it for you!
Step #3: Make technical SEO improvements to your website
Once you've got the results of your SEO analysis, move on to fixing your website's technical issues.
Make sure to clean up your website! Here's how:
Security – There is a

cyber-attack every 39 seconds

, and 43% of cyber-attacks target small businesses. Not only that, but 82% of people won't browse an unsecured site.

Speed – Half of U.S. consumers expect a web page to load in 2 seconds or less and will leave if it takes longer.

Test your site speed here

.

Mobile-friendliness – Consumers now spend more than five hours a day on their smartphones, and 57.6% of searches for lawyer keywords happen on a mobile device.

Check if your site is mobile-friendly here

.

Schema – Schema markup is a type of HTML markup that is universally understood by search engines. Schema removes any guessing games, allowing you to tell Google EXACTLY what the content on your web page is about, increasing your chances of ranking higher and lessening your chances of Google misunderstanding what your page is about. Law firms should use schema for local businesses.
Step #4: Optimize your existing web pages for search engines
Once you've got your keywords and your website is cleaned up, you need to optimize your current website pages.
Make sure each page has a Title Tag and Meta Description that includes your keywords.

Make sure each page THOROUGHLY addresses the page subject. If someone would have ANY additional questions after they're done reading, it's not thorough enough.

Make sure to use heading tags, which give search engines more clues as to the structure and topic of your page. Do not use heading tags for emphasis. Each page should have ONE H1 tag, multiple H2 tags, and if you need them, a few H3 tags.

Ensure your key phrase—and variations of your key phrase—are used throughout your landing pages. That being said, DO NOT KEYWORD STUFF. If you're looking for places to slide in keywords, you're not doing it right.
Dive deeper into On-Page Optimization through this article.
Step #5: Optimize your Law Firm's local SEO properties, including Social Media and Google My Business
Local SEO for law firms gets your law firm at the top of search results for a local service area. It's different than normal SEO because of the emphasis on the local pack in Google's search results. The local pack is the box of Google Map results in the search results page, under the paid ads, and above the organic search results. The information in the local pack is pulled from your Google My Business account, which is why your GMB account needs to be claimed and optimized for local SEO.
How to optimize your Google My Business account?
Google My Business (GMB) is the fastest way to list your firm on Google Maps to potentially gain exposure in the Google local pack, depending on your location and the competitive landscape on Google.
Here's how to optimize your GMB page:
Choose the appropriate business categories on GMB.

Write a long (200–300 words), keyword-rich description for your business.

Include the correct NAP information (Name, Address, Phone number).

Add a link to your website

Connect your social media and online review profiles

Add photos. Lots and lots of photos.
Reviews are part of optimizing your local presence—88% of consumers trust online reviews as much as personal recommendations, so having a negative reputation online may deter potential clients from contacting your firm to represent them. Getting more Google reviews and reviews on other online business directories can help increase your exposure on page one of Google.
In addition to listing your firm's NAP information on Google My Business, generating local SEO citations on nationally syndicated online business directories as well as niche legal directories will increase off-site SEO factors.
Top legal citation sources:
Step #6: Build out missing website pages
Now that you've taken care of the most important SEO factors, it's time to amp up your law firm's SEO efforts. Look through your website pages and make sure you have a dedicated web page for each service you provide. Think you've got them all? Browse through all of your competitors' websites. Do they have any you're missing?
Don't forget FAQs, About, News and Media, and other authority-building pages. Since you're a lawyer, your FAQ pages will be gold—it took you three years to get comfortable with the law. Your clients are trying to get their heads around it in a fraction of that time. People have nothing BUT questions when they begin a legal process, so preemptively answer every single question they might have with helpful (and understandable) FAQs. Bonus points for making the process visual with videos and infographics.
Step #7: Create SEO-friendly content, including a blog
You need a blog.
It doesn't need to be fancy and no need to add a new entry every day, but you do need one.
Not only does having a blog increase your chances of ranking on search engines, but it also builds trust in your law firm. Modern consumers like to do their own research, which is why it's so important (for lawyers, especially) to have digestible content that answers questions someone might have. Bottom line – the better content you have, the higher you'll rank, and the more leads you'll get.
Check other types of content marketing through this article.
Step #8: Build links back to your website
Backlinks are viewed as votes of confidence in your content and have a huge weight in the search engine algorithm. The more links you have back to a web page, the more authoritative Google assumes it is, and the higher you'll rank in search engines. Building backlinks is not a passive SEO strategy – you need to stay on top of it, keep building more, and monitor the links you do have.
Great sources of backlinks for Legal SEO:
Get interviewed

Write law journal articles

Write ABA or other bar association articles

Literally, just write more articles and submit them to related publications

Directly reach out to journalists and bloggers to collaborate

Promote your content on social media

Build internal links (link one page of your website to another page on your website)

Create amazing infographics and videos

Claim every listing in local and industry directories (like the ones listed above for Local SEO citations)
Step #9: Track, measure, and analyze
None of the above will work if you don't measure, track, and analyze that data.  Doing so will help you determine which lawyer marketing strategies work and which should be changed or eliminated. However, don't make the same mistake many law firms make by looking at metrics when they should be looking at Key Performance Indicators (KPI).
These are the metrics:
Rankings

Social shares

Impressions

Brand mentions

Website traffic

Bounce rate
You need to monitor the metrics above because these metrics give context to your KPIs. However, you should NOT make marketing decisions solely based on them.
These are the KPIs that should drive your law firm's digital marketing strategy:
Total new clients

Leads

Revenue

Return on marketing investment (ROMI)

Lead-to-sale conversion rate

Booking rate (from calls)

Cost per lead (CPL)
Step #10: Tweak your Law Firm SEO campaign based on analysis
The final step is to look at the results you've gotten from your law firm SEO strategy and tweak your strategy based on those results. The best way to do this is to have a year-over-year comparison of your KPIs and another of your competitive analysis. Over time, you should see incremental improvements in all your categories.
You can rinse and repeat everything that's working, but if you saw a decrease or not much movement in one category, like web traffic, it's time to switch up your strategy.
Here's what to do if you saw a decrease in:
Website traffic – Find out which pages have decreased traffic. Did you alter them in any way? Did they get slower? Are there any broken links? Do you have any alerts from Google? Revert what you did and see if traffic increases.

Rankings – find out which rankings fell, and optimize the pages as fully as you can.

Leads – Was it calls or web forms? Are your web forms working? Are there outside factors contributing (like seasonality for tax attorneys)? Analyze where previous leads came from, find the channel that's lagging, and tweak your strategy.

New clients – Are leads down? Are you attracting the right kind of leads? Once you find the root cause, you can fix it.
The goal is to have a continual flywheel of tracking, testing, tweaking, and repeating.
CONCLUSION!
SEO in the legal space is competitive and there's so sign of this changing anytime soon. If you want to rank, you've got to do things the right way. We covered a lot in this SEO guide, and if you feel a bit lost, don't fret about it. This is hard stuff, which is why there are SEO companies like Avamia.
If you need a helping hand or someone to guide you through the process, we're happy to help. Contact us and tell us about your situation. We'll listen to your frustrations and give you honest feedback and recommendations, and hopefully, we can help you use SEO to turn a dime into a dollar.