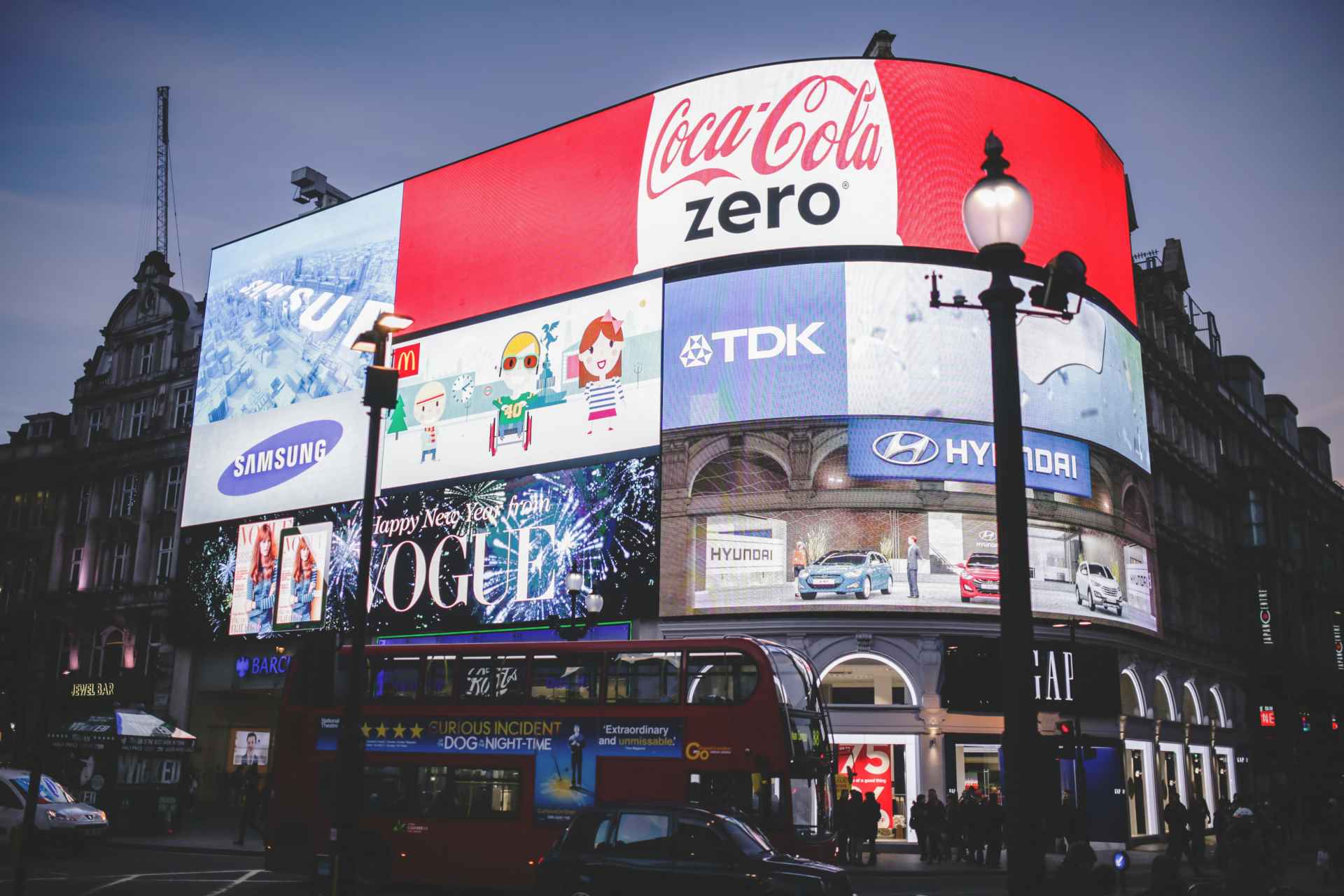 If your company has ventured into any sort of online advertising, chances are you're using Google Ads (formerly AdWords). And if you're using Google Ads, you need to have a solid understanding of what banner sizes to use. Many advertisers who use Google's display network will often find themselves with this problem.
With many different sizes and dimensions, knowing which size ads to run can be confusing. To help you understand the various Google ad sizes and their dimensions, we're taking a complete look at all the sizes Google offer. From the most popular dimensions to the exotics, you'll learn exactly which sizes have the most ad inventory and which sizes publishers prefer.
What Are Google Display Ad Sizes?
Google ad sizes, also known as Google banner ad sizes, are the various different types of banner sizes available for Google's network known as AdSense. Just like other PPC networks, Google allows publishers to display a range of different sized ads on their websites.
Since every website is not designed the same, not every website can use the same ad format, hence why Google has a range of different sizes. Not only does this make it easier for websites to fit ads into their website, but it also gives advertisers a choice of different ad sizes to use.
These different ad sizes often come with different click-through rates and therefore different prices. If an advertiser wants traffic but doesn't want to spend a lot of money then they can go for a smaller ad size that won't cost as much. Compare this to larger ads that will most likely get a higher click-through rate and will cost more.
What a Google image ad should include
Company Logo
Each image ad should include a logotype. Instead of a standard logo copy-paste engineering or a simplified logo, it's better to take time to come up with more inventive solutions.
Call to Action (CTA)
To get the audience to convert, include a Call to Action in your banner, such as: "Visit our website", "Check out the offer", "order NOW!", "call us", "sign up for a newsletter", etc. The best way to expose CTA is in the form of a button.
Unique Selling Point (USP)
USP is a unique benefit that the customer acquires upon purchasing the product. This should be highlighted in its headings or description.
Product Picture and Price
This is mandatory in any product advertisement. Dedicated banner showcasing the products on sale is also a good idea. You can show the old price crossed out, or highlight the discounted amount.
The most common Google ad sizes
Square: 250×250

Half Page: 300×600

Large Rectangle: 336×280

Leaderboard: 728 × 90

Small Square: 200 × 200

Banner: 468 × 60

Medium Rectangle: 300 × 250

Skyscraper: 120 × 600

Wide Skyscraper: 160 × 600

Large Leaderboard: 970 × 90
How different display ad formats are used
Banner (468 x 60)
When your potential customers are browsing, the first thing they see on websites is the top of a page or above the fold, and your ads can be there to meet them. Banner ads roll across the upper part of the page, and they can grab attention to initiate your remarketing efforts.
Half banner (234 x 60)
If you're looking for an ad with a small but powerful scope, the half banner ad can suit your needs. It fits into narrower areas, but its reach to audiences is less substantial due to poor ad inventory on websites. This Google Ads size is shorter, diminishing room for text, but it can tactfully direct viewers to your website and services with powerful images.
Vertical banner (120 x 240)
Similar to the half banner size, vertical banners can occupy tight spaces. Thin ads can get into these close spots, but their readability doesn't match wider ads. You can have difficulty inserting sentences and reasonable call-to-action (CTA) messages in the existing space. It's also not amply supplied by the Google Ads network.
Mobile banner (320 x 50)
The mobile banner only appears on mobile devices, but it pinpoints a significant group of people. Mobile internet usage has also increased, which means mobile marketing is full of potential. While people are scrolling on their smartphones or tablets, your banner can achieve beneficial exposure.
Large mobile banner (320 x 100)
Reinforcing your ad campaign on personal technology is strategic, and large mobile banners dispatch retargeting better than the plain mobile banner size. The large mobile banner ad can make use of mobile activity and captivate past visitors.
Square (250 x 250)
Appearing on both mobile electronics and computers, the square size is a versatile and advantageous proportion. Square is also a responsive ad type, so it adjusts to the most accessible spots on pages. Straightforward square ads typically hug the side panels, though.  Arranging images and text on these is manageable, and adaptable ads can get your message back to previous viewers with ease.
Small square (200 x 200)
Small square ads have many of the same perks as the regular square size, but they are slightly less noticeable. You can still capitalize on the demonstrated interest of visitors with these, but they serve a more subtle purpose. They are also compatible with mobile browsers.
Half page (300 x 600)
Although half-page ads don't take up half of the page as their name suggests, they perform well and richly communicate information to readers. This may be because half-page ads take up a larger portion of website real estate than other ads.
Due to a generous size, viewers have to look at them for a longer period of time, which can encourage more clicks and conversions.
Small rectangle (180 x 150)
While rectangle ads usually generate traffic, small rectangle ads are the least impactful size in display advertising. They can accommodate compact pages, and they are more affordable due to lower competition.
Medium rectangle (300 x 250)
With an exceptional amount of available space across the Google Display Network, medium rectangle ads are some of the most successful Google retargeting ad sizes. They can appear on smartphones, tablets, and computers, and can display within text or at the bottom of pages, especially after articles.
Large rectangle (336 x 280)
As Google Ads offers a high inventory of large rectangle ads, they can boost conversions and bring in revenue. When embedded in content, these get better reactions from viewers, and combining visual and text components can boost their performance even more.
Skyscraper (120 x 600)
Situated on the sides of pages, skyscrapers are tall ads, which restrict word placement. These Google retargeting ad sizes are vertical, so they're less sought-after by businesses. However, this results in a lower cost. Skyscraper ads also still hold a fair chance of getting your audience to visit your site again, so they're worth considering.
Wide skyscraper (160 x 600)
To help people remember your brand, you can use wide skyscraper ads as your Google display ad size. With more abundant space availability, these are a useful vertical Google ad size. Along the sides of websites, these offer a broader area than the conventional skyscraper ad.
Portrait (300 x 1050)
Portrait ads are an emerging unit size for retargeting because they're eye-catching. While in high demand, websites don't have a large volume of ad inventory for them yet. Portrait ads can show up in the middle of site content, but this can interrupt the natural sequence of pages. As long as these favor one side, leaning right or left, they can act as captivating, rather than intrusive ads.
Billboard (970 x 250)
As the biggest horizontal Google retargeting ad size, billboard ads stand out at the top of pages. They can sit in different positions on websites, but they get the best impression rates when located above content. If you have a lot of text to put in your ad, billboard ads provide optimal spacing.
Leaderboard (728 x 90)
Leaderboard ads are another long Google display ad size, and many websites in the Google Display Network have room for them. They ordinarily appear in prime positions, like at the top of a website page, and this is where they are most effective.
Large leaderboard (970 x 90)
Expanding on the regular leaderboard, large leaderboards line the upper parts of websites too. This ad also includes an option to expand, shifting the rest of the page's content downward, which can create a distinct experience. This can generate more interaction, but it can come across as invasive. However, users can continue interfacing with the expanded version, or they can move on, giving your retargeted audience an opportunity to pursue your products.
How to use our Google Display Ads Template
When designing your display ads, you can use various image editing tools such as Adobe Photoshop, Illustrator, or even Microsoft Paint if you are old school. 
To speed up the process, we've included a Photoshop template to get you started in designing your display campaigns. In the template, we've added separate artboards for each display ad format. These have the same dimensions as the required sizes when you'll upload them to Google Ads.
One thing you might notice is that the dimensions are 2x the times the size of the required dimensions. We've found that while creating the various ads, it can be challenging to work with some of the smaller sizes and get pixel-perfect ads. Since Google Ads will automatically scale the images appropriately, we've found this to be a great way to have better control of each ad.
While working through each artboard, here are a few tips to keep in mind:
You don't need to create designs for every display ad format. Google will choose the appropriate ad size and scale them appropriately. However, the more formats you provide the more control you'll have over having a well-rounded display campaign that fits on various devices.
Depending on the display size you are working on, you'll want to choose how much content that's visible in the ad. For larger formats, having a call to action, logo, background image and a header is usually a great way to showcase your offering. However, for smaller formats, we recommend cutting out any unnecessary details and simplify your ad down to the essential components. 
When exporting from photoshop, there's a convenient way of exporting all of the artboards at the same time. This can cut down on manual labor of all the various image sizes. Select all of the artboards you want to export and then go to File > Export > Artboard To Files.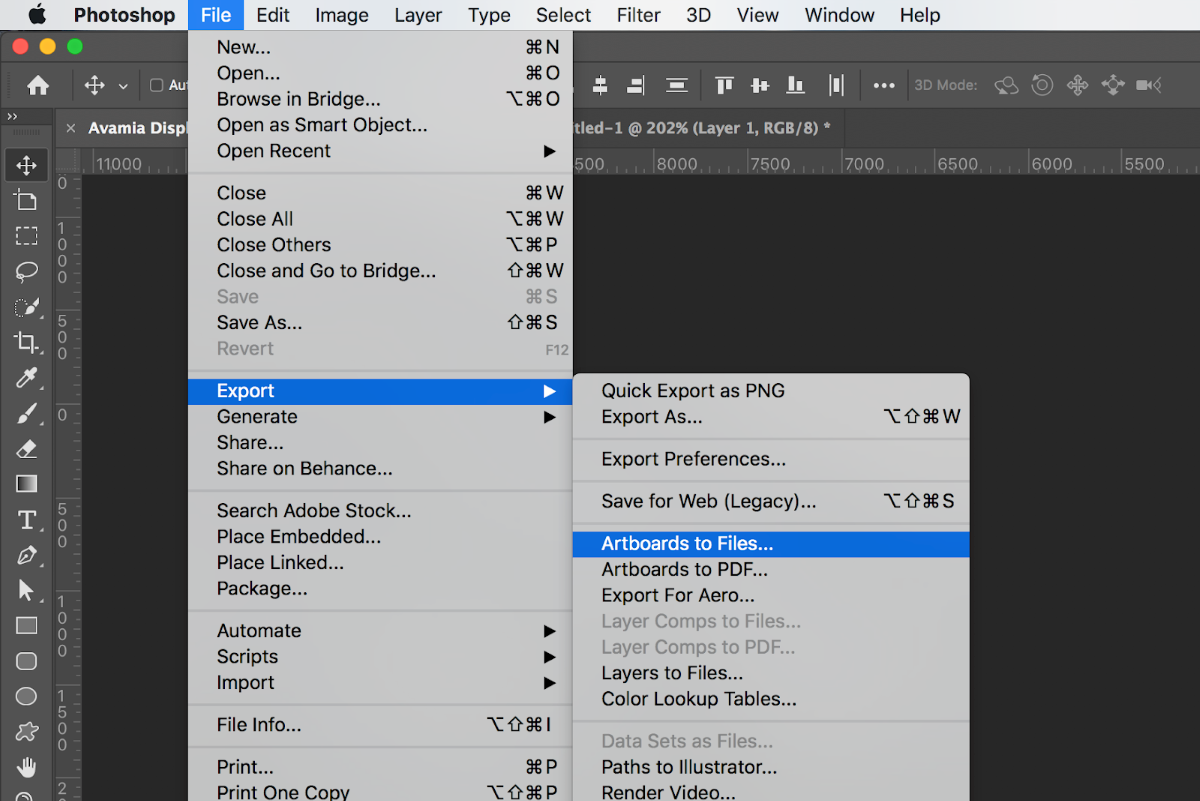 You'll have the option to choose a compression setting. We usually go with 6-7. Be careful that the image size does not go over 150kb. Google has a strict size limit for all image uploads. 
CONCLUSION!
When it comes to mastering the art of online advertising with Google Ads – size matters, but the design does too.
Display Ads tend to get a lower direct click-through rate than search ads, however, they still need to be visually appealing with carefully crafted text, the right mix of fonts, color, and graphics. They're great for raising your brand awareness and when used for remarketing purposes, potential customers are more and more likely to make a purchase if not today, then maybe tomorrow.
Explore our PPC services today or contact us online for more information!