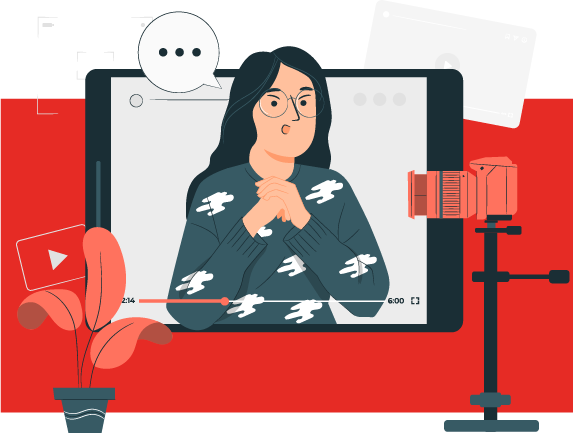 Whether you are looking to improve your social media channel like Youtube, Instagram or Twitter, create a television advertisement, or produce a corporate video for your business, Avamia has you covered. We have the team and equipment ready to help you plan, shoot, edit, and distribute your videos to tell a story.
What is Video Production?
Creating a corporate video, advertisement for television, or an engaging educational video may seem like it's a complex process only Hollywood understands, but it turns out it's actually a simple set of steps.
Video production encompasses all the steps in planning the video shoot.
Pre-production is figuring out the location, who will be there, what's your budget, what kind of story you want to tell, and the equipment required to actually capture the videos.
Onsite production includes showing up to the location(s) for the video, filming each of the scenes necessary (sometimes several takes to get it right) and making sure all of the raw video is ready for editing.
Post-production includes putting the pieces of the raw captured video together in a creative and compelling way that tells the story you are trying to achieve. This includes cutting up the video clips and selecting the best takes, making sure the sound levels match, picking out and composing music that helps engage viewers.
Post production also includes color grading. This unique service is the secret sauce in making your videos look just like the movies on the big screen.
What Are the Benefits?
One of the most engaging mediums of content on social media, advertising and the web is video. By investing in high quality video production, from meticulous pre-production planning, to using cinema-grade cameras, and cutting edge video editing techniques, you'll be able to uniquely demonstrate your product or services, have more ranking signals for SEO, build a stronger emotional connection with your audience and most importantly convert your viewers into customers.

Why Avamia
We take the time to understand your brand and focus on the details that will get you a return on your investment. Our attention to quality, technical knowledge, and streamlined user experience helps give you an edge over the competition. With Avamia, we can help optimize every step of your PPC campaign process.
Get Started
OUR PROCESS
1

2

3

4

5

6
Previous
Next
Video Goals
Are you looking to increase engagement with your leads? Do you want better brand familiarity across your market segments? Or maybe, are you looking to run a series of video advertisements in front of thousands of mobile devices? Avamia can help you translate your business objectives into actionable video milestones for focused content creation.
Pre-Production Planning
Once your goals are crystal clear, Avamia can help you plan out your video production. This includes the script writing, location scouting, ensuring the right equipment is available for the shoot, as well as having the right crew available to film and record the video.
Onsite Filming
The day of shooting is where the magic happens. From video cameras, to mics, and lighting, Avamia has the equipment and crew ready to help you bring your idea to life.
Video Editing
After the raw video, sound and graphics are captured and created, Avamia can help you weave together a story that both engages the target audience and helps achieve the business goals for the video. This includes scrubbing videos, editing sound, composing music to accompany the video, and adding graphics and FX.
Color Grading
A closely kept secret in the upper echelons of Hollywood is the art and science of color grading. Avamia can help upgrade your video's appearance with color grading services to correct, stylize and create a cohesive video that tells a unique story.
Distribution
Figuring out which type of compression, media formats for specific channels, and what kind of edits are necessary all part of the distribution process. With Avamia's experience marketing on various platforms, we got you covered when it comes to video distribution.