What is Social Media Marketing?
Social Media Marketing, or SMM, involves creating strategic content that is released across various social media channels like Facebook, Twitter, Instagram, Youtube, and LinkedIn. This is a great way to market your product or service as part of achieving your business objectives and marketing goals. SMM includes things like creating posts, interacting with users that leave feedback, and collecting metrics to compare engagement across channels and posts.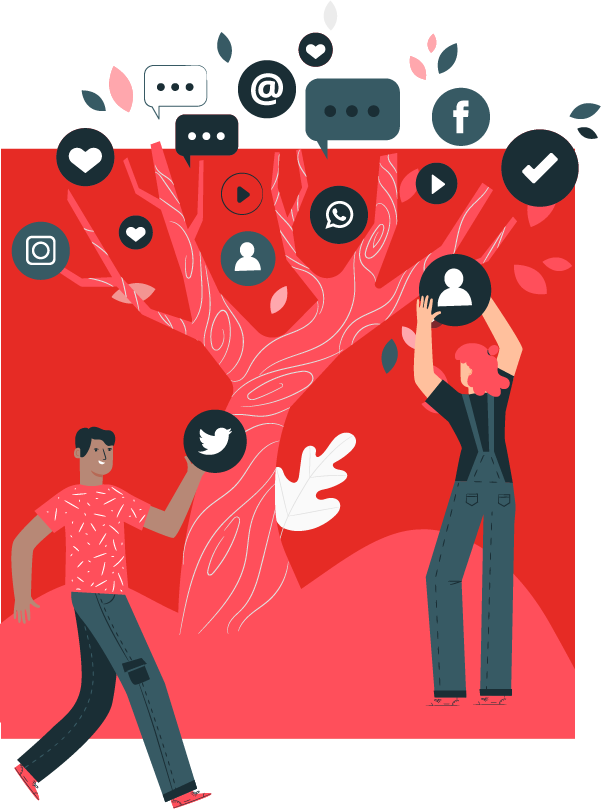 What Are the Benefits?
By utilizing social media, you have a way to build up an organic audience that your business can interact with when sending out marketing material for a new campaign, running seasonal promotions, or trying out a new product or service. A strong social audience is a great research segment you can engage with when trying to learn more about your customers. With SMM, you can increase website conversions, raise brand awareness, and help create a stronger brand identity.

Why Avamia
We are very goal oriented and data driven when it comes to social media marketing. If posting on social media isn't helping increase your sales, improve brand awareness or convert leads in your funnel, we don't see the need for it. With that said, Avamia views social media marketing as an important part of your overall marketing strategy. Avamia can help you create original and fresh content to post to your user base to increase user engagement and brand awareness.
Get Started
OUR PROCESS
1

2

3

4
Previous
Next
Planning
Avamia can help you figure out what the underlying goals are that you are looking to achieve with SMM. Just publishing content to grow your business is not specific enough when trying to efficiently run parallel marketing plans. You need to drill down on what the target audience is, messaging and imaging that will engage people.
Content
After getting a game plan put together for your Social Media Campaign, Avamia can help you create original content that will drive engagement. This can take the form of posts including graphics, videos, text overlays or a combination of all of them.
Competitor Tracking
It's important to see what the competition is doing when it comes to Social Media Marketing. If you can quickly distill down the types of content users are engaging with your competitors the most, you can quickly get in on the action to start driving traffic to your own social channels. While learning the from the competition is a good start, you'll want to create original content as well to set yourself apart.
Analytics
The ongoing part of social media marketing is utilizing analytics to figure out what's working, what's not working, and get an idea of how engagement is growing / shrinking over time. This is a valuable component of the process and can quickly help you figure out the type of content that your audience responds best to.